Post Spawn Walleye on Swimbaits
by Jeff Matity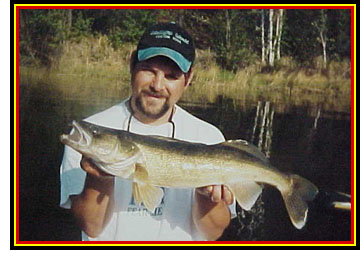 It was the third weekend in May and there was still ice on the main body of Hanson Lake. Hanson Lake, located in central Saskatchewan, Canada, is subject to occasional late springs, slow thawing and bitterly cold weather. Tough fishing conditions for the opening weekend of walleye fishing.

That did not matter to my buddies and I as this was our 7th Annual "Trip with the Boys" and we were going to fish wherever we found water. We headed to the largest bay with the most southern exposure and, luckily, the water there was 5 degrees warmer than the rest of the lake.
With the extremely late spring and frigid water, I was convinced this was going to be a small jig and leech, "brain-surgery bite" requiring light lines, premium jigging sticks, a magician's touch and patience.
We picked our way along the shoreline in the warming bay. The four of us caught numerous smaller pike on the leeches as well as on small jigs and plastics. Then, trying to catch a big pike, one of the guys decided to put on a 5" suspending jerkbait. Within 10 minutes, he had our first walleye of the trip; a solid 18" beauty. I intensely focused on my jig and leech as, obviously, we were finally into the walleyes. Fifteen minutes later and 2 more, bigger, walleyes to his credit, my buddy started chirping. I decided it was time to shut him up. However, to avoid even more verbal abuse, there was no way I was putting on a 5" jerkbait. Instead, I rifled through my gear bag and found, tucked away in the bottom of my jig box, a 5" Big Hammer™ swimbait in the "Bleeding Trout" color pattern rigged on a ½ oz. Hammer Head™. I tied it onto my baitcasting outfit, spooled with 10 lb., florescent green, Fireline and let it fly.
I began a steady retrieve as soon as the Big Hammer hit the water. In the 8' water, the fish were either suspended or feeding towards the surface, I concluded, since my buddies plug could not have been getting down any more than 4' or so. Keep it up and bring it in fast, I thought, mimicking his jerkbait retrieve.
I peered intently down my hi-vis line for the first glimpse of my jig and any following fish. From above, the silvery sides of the Bleeding Trout flashed impressively as the bait came into view. I stalled my retrieve and watched the bait hustle towards the bottom. Then, I found out why the bait is called the Big Hammer™. A 27.5" walleye, very big for this far North, came out of nowhere, lunged forward and engulfed the whole thing! What a rush! This was almost like "figure-8"ing a big pike or musky boatside! We slipped the landing cradle under the fish, snapped a couple pictures and released the lean, mean, beautifully colored, post-spawn female back, to be caught again next year.
"You're dead meat now!" I warned my buddy. He and the other two "plug chuckers" may argue the details; however, truth be told, the Big Hammer™ laid waste to the jerkbaits. I spent the next three days fishing nothing but the Big Hammer™ and caught more big fish, over 21", in three days, than I had in 4 years fishing Hanson during our opening long-weekend trip. I was continually amazed as fish after fish, gobbled the entire bait deep into their mouths.
In my younger years, growing up a river rat, the 4" Mister Twister Sassy Shad was a staple in my late fall, night-stalking walleye gear. In fact, this bait is credited for my largest walleye to date, a gorgeous, 11 pound trophy.
It is strange how, when we age and gain more experience, we often "move on" to places and tactics that others teach us or we read about as being the newest and best things going. For me, guiding, competitive fishing and fewer, yet more intense, adventures to far away places and more exotic fish species caused my thinking to become more and more diverse and specialized. With that Hanson Lake trip I had a reawakening. Spending the last 25 years refining and upgrading my fishing rods and equipment, tweaking finesse presentations, immersing myself in marine electronics, boating and the latest navigational breakthroughs, eventually brought me back… full-circle… to a long-time, greatly neglected friend… the swimbait.
Like all other things in life, the best just keep getting better. The same is true with swimbaits. The Sassy Shad is actually a shad body and not a true swimbait by today's standards. As you retrieved the jig, its tail kicked back and forth wildly adding a nice shimmy to the body. Today's best swimbaits are made of stiffer plastic, are hand-poured, multicolored, rod shaking pieces of art. After getting my hands on as many brands as possible, and reading virtually every company's claims on the net, I use and am very pleased with Big Hammer swimbaits. In more detail, the three main features, that set these swimbaits apart from the rest are as follows. First, they possess beautifully colored, match-the-hatch patterns that rival the visual appeal of any live baitfish. Next they're equipped with the unique Square Tail™ that pounds out a vibration pattern that can be felt and seen in the rod tip almost as crisply as a finely tuned crankbait. Thirdly, not as noticeable; but, I feel, vital to the entire package, is their construction. They are made of a very tough, stiffer plastic of almost muscular texture.
The bait literally does swim! The tail sculls its way through the water with determination throwing the body into a series of alternating s-curves and causing, what I call, "The Magic Act". The stiff body conducts the hammer-kick of the tail and rolls back and forth across its broad shoulders. The body, anchored by the jig head, tilts about 45 degrees on its axis, before the next kick sends it rolling in the opposite direction. This gives the bait its pronounced vibration pattern and the high angle of the roll causes the tapered belly to flash visible on each kick. Care must be taken to thread the body on the jig properly; however, when rigged right, it has to be seen to be believed.
Don't worry, I'm not offended by your skepticism. I wasn't a believer the first time I saw a swimbait properly fished. It was on the In-Fisherman television program. Editor-in-Chief Doug Stange was running his electric bow-mount down a weedline tossing a 5" swimbait and smacking walleye between 19"and 28". What is noteworthy is that segment was shot around midday, under dead-calm conditions, during the doldrums of August. In over 25 years of following Doug's many breakthroughs and refinements, he's never been a liar or flagrant advertiser. So, dutifully, I tried several brands and settled on Big Hammer. I picked only 5 of the 75 available colors, choosing patterns that I felt would be the closest matches to the baitfish in our midwestern lakes and rivers. Successful colors for the clear oligotrophic lakes farther north to the moderately stained eutrophic rivers, closer to home, include Halloween (#5), Bleeding Trout (#23), Deep Purple (#39), Great White (#102), and Glowbug (#69).
The Big Hammer can't be fished wrong as long as the tail is kickin'. Two general rules I follow with consistent results is to fish faster and use jig heads heavier than what would be considered "normal", for walleyes. Where I would typically fish a ¼ oz head and a 3" body, I fish a 5-6" Big Hammer on a ½ oz body. Therefore, generally, double your size and you'll have to pretty much double your speed to keep this size and weight combination in the strike zone. The only addition I have made to this straight forward, chuck-and-crank presentation is occasional pauses during the retrieve to keep bottom contact or to bring it in fast and high, then stall and free-fall once the jig is barely in view to trigger following fish. Experience is the best teacher. Just use them and you will believe.

Big Hammer™, Hammer Swimbaits™, Square Tail™, Rectangular Tail™, Square Tail Design™, Rectangular Tail Design™ and the rectangular shaped swimbait tail design are all trademarks owned by Sunrize Tackle, Inc. (parent company of Big Hammer Lures). Use of these terms without written permission by Sunrize Tackle, Inc. is prohibited by law.
The photos, images, text and content of the Big Hammer™ website are copyrighted. These items and information are provided for your convenience and are only intended to be used in the positive promotion and sale of Big Hammer™ products. All other use is prohibited by law.
© Copyright 1993-2016 Sunrize Tackle, Inc. - All Rights Reserved.